Gena Abernathy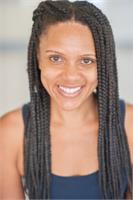 Gena brings so much fire and passion to the yoga room we have to bring a fire extinguisher inside the room. BYM is so happy have Gena back on the schedule as you will take 1 class and understand why.
"Hi everyone, my name is Regina AKA Gena. I've been teaching for seven (7) years this June. Becoming a Bikram yoga instructor for me has been a natural and easy fit seeing as I am a mother of three (3) children who has been busy teaching and living my life as an example for nineteen (19) years and still counting. Teaching for me not only allows me to grow personally but it teaches me how to respect, understand and appreciate the uniqueness of each student I instruct through a ninety (90) minute class. My goal as an yoga instructor is to provide consistency and fluidity, patience and kindness all while encouraging you to do your personal BEST...I hope to see you in my classes!
Gena Abernathy instructs the following:
90 min series; 26" Asanas" beginner friendly yoga class.




26 postures and 2 breathing exercises. 90 min.