Leanne Fukuhara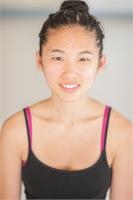 I first started practicing Bikram Yoga 10 years ago, after being drawn to the challenge of exercising in the heat. I soon realized that the challenge wasn't in physically completing the postures in a heated room, but in the mindset of working hard and not giving up. Competing in yoga competitions as a youth and as an adult has taught me to not be afraid of going beyond the personal expectations that we set for ourselves; limits are only limits because they are self-imposed. Come to class with an open mind, be prepared to work hard, and see where it can take you!
Leanne Fukuhara instructs the following:
90 min series; 26" Asanas" beginner friendly yoga class.